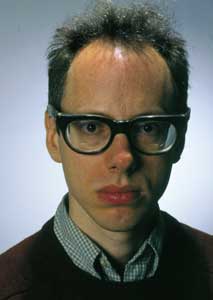 latest update: 5/16/07
Life During Wartime: SOLD!
According to a Variety by Patrick Frater, Todd Solondz's latest film, Life During Wartime, was picked up already at the Cannes film festival. The film was not playing in the festival (in fact, I'm pretty certain it's not complete), but it, along with a mockumentary about a Russian roulette reality TV show, was just purchased by D Prods. It might be worth noting that the Variety piece refers to it as the "upcoming untitled Todd Solondz picture," which suggests either that Mr. Frater doesn't check out my site often enough, or that Life During Wartime may no longer be the film's working title.
5/24 UPDATE: Today's Variety reports that, "Todd Solondz's 'Life During Wartime' [note: they're using the title now] was sold to Village Roadshow for Australia and New Zealand, Svensk Filmindustri for Scandinavia, Imagem for Brazil, Monolith for Poland, Tuck Film for Ex-Yugoslavia and D Production for Turkey."
3/12/07
All About Life During Wartime
A casting notice posted on the Tampa Bay Convention and Visitors Bureau website (http://www.visittampabay.com/) contains a big scoop on the new Solondz film. Apparently it's a sequel to Happiness, set to star Emma Thompson, Demi Moore and Faye Dunnaway? The full notice reads:
"LIFE DURING WARTIME is a $4.5 million low budget feature by Indie maverick Todd Solondz....the film picks up with characters that we last saw in Todd's film "Happiness".....the film will star Emma Thompson, Demi Moore, Faye Dunnaway, Dennis Franz, Hope Davis...amongst many others. The film will shoot for 35 days starting May 15. Production will bring a production designer and wardrobe designer but all other positions are open. The film will be made under the IA national agreement, but will not be DGA. The film will be shot by DP Anthony Dodd Mantle (King of Scotland).
The film will be produced by Mike S Ryan, Derrick Tseng and Ted Hope."
Thanks to EJ for pointing this one out to us!
2/15/07
Title of His Latest Film
According to an article released today in The Hollywood Reporter, John Hart, formerly one half of Hart Sharp Entertainment, is leaving the company and forming his own, new production company: Evamere. One of Evamere's announced films is Todd Solondz's latest, described as a "dark comedy of sexual obsession." The title is Life During Wartime. No other info was given about the film.