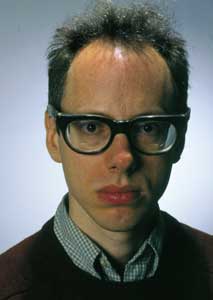 latest update: 6/3/06
Feelings now on DVD!
Right on the heels of some very big and exciting Todd Solondz news, we have some very big and exciting Todd Solondz news! Solondz's first student film, Feelings (1984) is available on DVD! It's being featured on a compliation of short films entitled Cinema 16: American Short Films, the third volume of Cinema 16 shorts compilations (following European Short Films and British Short Films).
American Short Films, to be released this Monday (June 5th), will also feature short films by George Lucas, Alexander Payne, Tim Burton, Gus van Sant, Andy Warhol and more. Note: a number of online vendors - including Amazon.co.uk, where I got mine from - list this disc as being PAL (European standard), but it's in fact NTSC, Region 0. So, North Americans, go nuts!
oh, and a film page has been created, now, for feelings, which you can view here (or from the main page).
5/21/06
Todd's Sixth Feature!
That's right! According to Fortissimo Films' official website (fortissimo.nl), they're going to be backing Todd Solondz's next film, which has yet to be titled. Solondz is quoted as saying that it's, "a kind of sequel to - or riff on - Happiness and, to some extent, Welcome To the Dollhouse. Many of the characters from these movies unexpectedly beckoned to me, and so I have explored new ways of developing and enlarging their stories, with the intent to recast them from a fresh perspective."
The film is being produced by Ted Hope (who previously produced Happiness and Storytelling), Mike Ryan and Derrick Tseng (who both produced Palindromes) and executive produced by Michael J. Werner and Wouter Barendrecht.
4/22/06
OK, Maybe He's Not In It After All
Well, less and less press write-ups, websites, etc. on the documentary film This Film Is Not Yet Rated (see News from 2/28/06) have been mentioning Todd Solondz's involvment lately, and some online sites and articles (including the IMDB), have actually been removing his name. So, I'm wondering, is he in this thing or what?
The answer is: what. I contacted Todd Solondz directly, and he says he's not in it. So, that clears that up. Sorry for misinforming, but at least we got to the bottom of it. And, hey, the movie still might be worth checking out anyway. 8-)
2/28/06
Solondz Featured in New Film
This Film Is Not Yet Rated, a new IFC-produced documentary by Kirby Dick about the Motion Picture Association of America, features an interview with Todd Solondz, who had his own misdealings with the MPAA over his film Storytelling (remember the red box?). TFINYR, which also includes interviews with filmmakers like John Waters, Kevin Smith, Kimberly Peirce, Atom Egoyan and Mary Harron, just had it's premiere this past Wednesday at The Sundance Film Festival . There's no word yet on DVD plans for this film, but IFC has announced plans to air this film on their own station in the Fall.