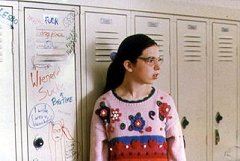 Welcome To the Dollhouse is available as an R-rated widescreen (1.85:1) blu-ray, also available on widescreen (1.75:1) laserdisc from Columbia/ Tristar, or a slightly better framed widescreen DVD (1.85:1), which also features a full-screen presentation on the other side, the theatrical trailer, production notes on the insert (see below) and talent filmographies for Heather Matarazzo, Brendan Sexton Jr., and Todd Solondz. Welcome To the Dollhouse is also available as a full-screen VHS edition. 1995, 87 mins.

DVD Production Notes: Writer/ director Todd Solondz's first feature, Fear, Anxiety & Depression, was released in 1989, and was, in the filmmaker's own words, "a disappointment," due to his lack of creative control.
Solondz: "Afterwards I left 'the business' - or it left me - and, lacking any marketable skill, became an ESL (English as a Second Language) teacher to newly arrived Russian immigrants."
Several years later, concerned over encroaching layoffs at his school, Solondz decided it was time to make another film. The project he chose was Welcome To the Dollhouse, based on a script he had written when he was still "active."
Solondz: "The catalyst [for Welcome To the Dollhouse] was when I saw an episode of The Wonder Years, and I was struck at how little it resembled my memory or understanding of childhood. And when I thought more, I couldn't think of any American films that dealt in any serious way with childhood ...there are European films like The 400 Blows, Los Olvidados and Shoeshine, but little else. In any films about American kids they were either cute like a little doll or evil demons.
Quitting his teaching job, Solondz began work on bringing Welcome To the Dollhouse to the screen. With children playing eight of the twelve principal characters (plus 500 extras), casting director Ann Goulder and Solondz were relieved to find parents very supportive of the script, perhaps remembering their own awkward days in school. To play the omnipresent Dawn Weiner, Solondz turned to Heather Matarazzo, an eleven-year-old actress who credits include the role of Natasha on Nickelodeon's The Adventures of Pete & Pete. Brandon McCarthy would be played by newcomer Brendan Sexton Jr.
Welcome To the Dollhouse was shot over a six-week period between July and August 1994, in West Caldwell, New Jersey. Due to child labor laws, the filmmakers were restricted to five-day weeks, but compensated by not having to tutor the young actors, as production took place over the summer.
Making its debut at the Toronto International Film Festival on September 9, 1995, Welcome To the Dollhouse became the subject of an intense bidding war that Sony Pictures Classics won in early October. Competing in the January 1996 Sundance International Film Festival, Welcome To the Dollhouse received the coveted Grand Jury Prize, paving the way for its theatrical release on May 24, 1996. Clever, funny and - for those who've walked in Dawn Weiner's shoes - all too true, Welcome To the Dollhouse is a highly entertaining paean to adolescent awkwardness, frustration and humiliation, "a shy, hilarious black comedy. Devilishly clever" Janet Maslin, The New York Times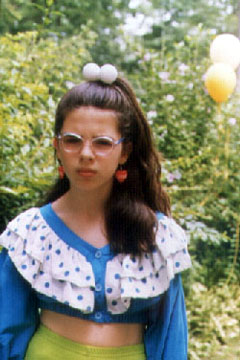 "At eleven I was at the peak of my creative powers: I was writing stories and playlets, putting together poetry projects. I was absorbed by my 'work.' At twelve I was no longer reading or writing, just counting off days and checking them off. I was interested in survival." - Todd Solondz

Welcome To the Dollhouse is a stark suburban comedy about eleven-year-old Dawn Weiner, a middle child in middle school in the middle of New Jersey. Sometimes hated, often reviled, seldom understood, Dawn tries in vain to put on a happy face as she struggles through the onset of what looks to be a long puberty. Life is generally grim, and sometimes it only gets grimmer. Nevertheless, she does find moments of grace amidst the humiliation of her first series of frustrated love affairs, and soon Dawn begins to wonder if life might not be better outside of New Jersey...

---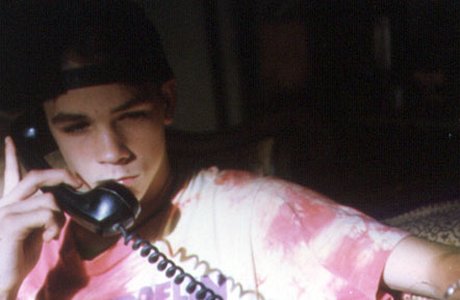 Todd Solondz became the most talked-about new director in recent years with this acclaimed comedy about the suburban condition. Winner of the Grand Jury Prize at the Sundance Film Festival, Welcome To the Dollhouse follows 11-year-old Dawn Weiner (Heather Matarazzo), a junior high geek who just wants to be popular. Teased by her classmates, tormented by the school bully (Brendan Sexton Jr.), Dawn develops an improbable plan to seduce the star of a high-school garage band. Bitterly funny and true to life, Welcome To the Dollhouse is a "mordantly hilarious suburban comedy... excruciatingly funny" (- Janet Maslin, The New York Times).

---